Insight and action
Make the right decisions
Track the progress of your awareness program, and use insights to proactively respond to security risks based on comprehensive analytics and contextual data.
Behavioral metrics pinpoint key vulnerabilities
Rich metrics show phishing simulation success
Industry benchmarks and statistics provide guidance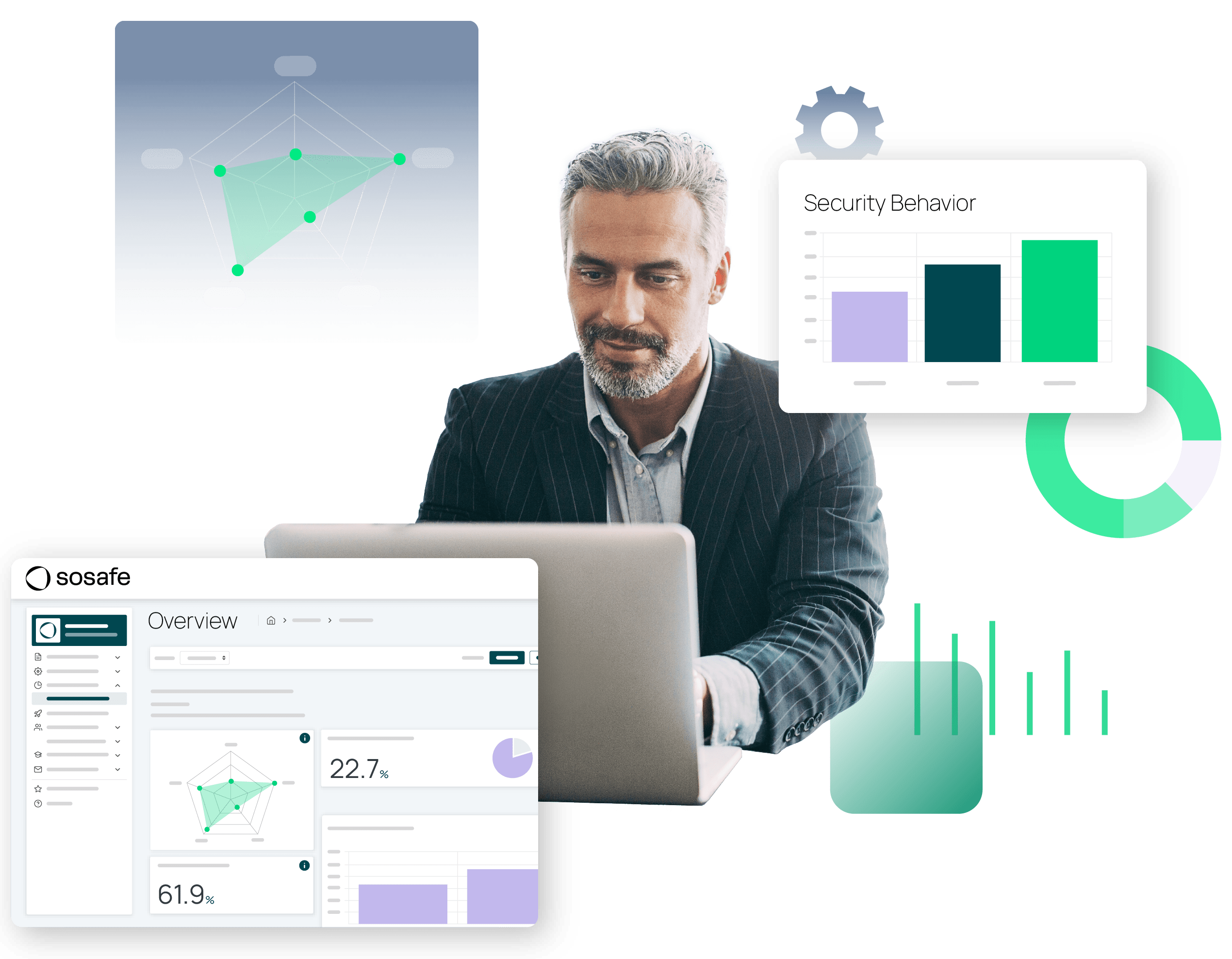 Safety and compliance
Protect your data and stay compliant
Protect employee privacy and fulfill all compliance needs at scale. Your data is protected with the latest security and privacy measures.
Fully GDPR-compliant with privacy by design
ISO/IEC 27001 compliant ready reports and dashboards
Anonymous tracking and reporting options available
Request a demo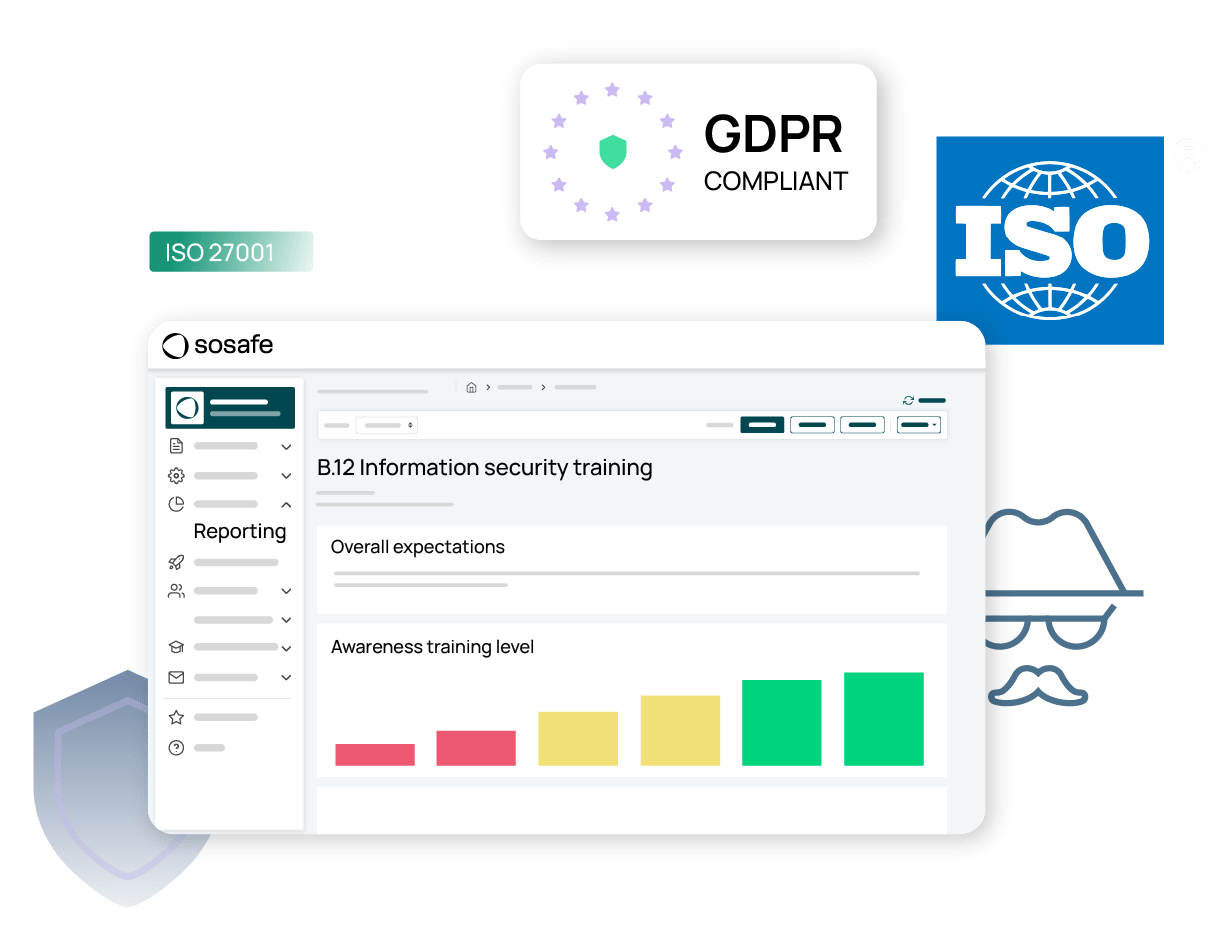 Single source of truth
The key for
strategic decisions
Our Risk & Reporting Cockpit provides one central overview with deep insights into your human factor security risks with recommendations that guide the appropriate course of action.
Powerful and actionable insights
Increased awareness on human factor security
Easy to manage and address human risk
Highlights usage and engagement rates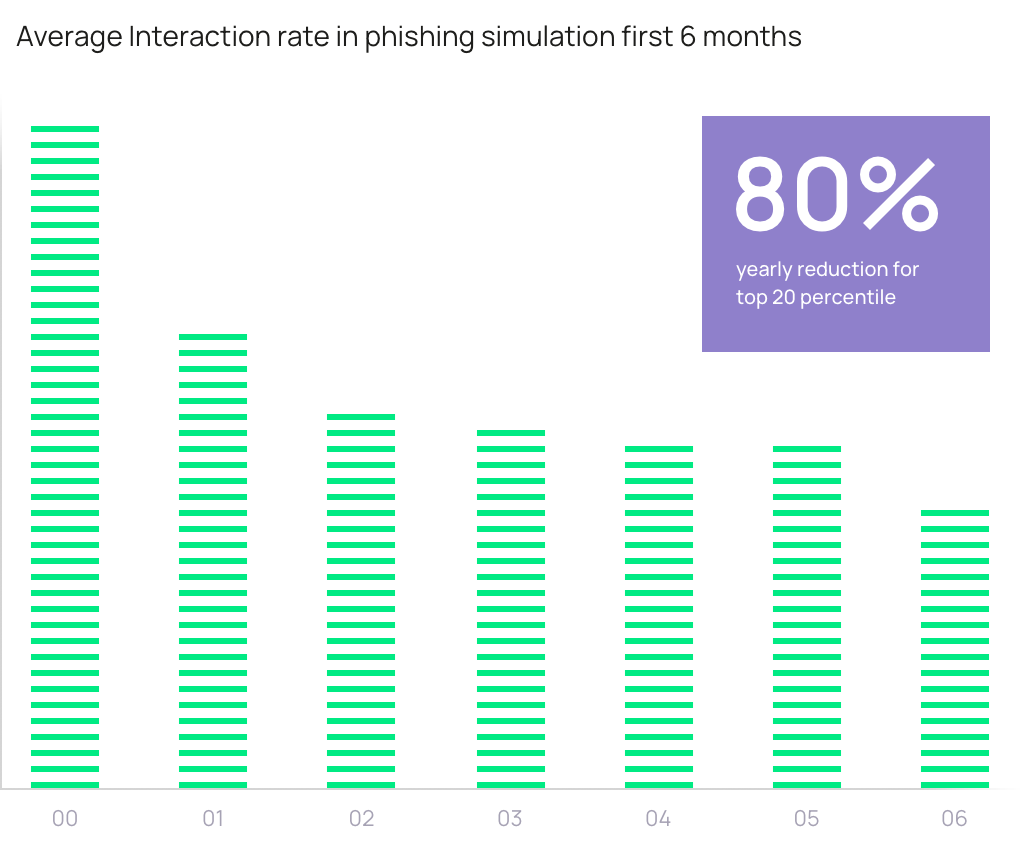 Psychology DNA
Driven by
behavioral science
Rich data and behavioral insights from the Risk & Reporting Cockpit empower organizations to continuously encourage secure behavior and minimize human factor risks. Gain clarity on the progress and success of your awareness program with a single and easy-to-understand dashboard including risk and learning reports.
Behavioral metrics from the dashboard facilitate quick responses and preventive action
Fully integrated phishing reporting tool analytics to understand how employee reporting behavior is improving
Awareness specialists consult on optimization measures based on risk factor reviews
"Extensive KPIs are a big reason why our solution stands out. Our analytics are driven by behavioral science, and enable organizations to anticipate and counter future risks. With the human risk and cyber security dashboard, awareness is always on the radar."
Proactively identify risk
and measurably reduce it
Spot vulnerabilities in your human-factor security and proactively address them to strengthen awareness and build continuous resilience while remaining safe and compliant.
High-touch support
Dedicated customer success manager guides you every step of the way to get the most from the dashboard and its rich insights.
Strategic business reviews
Get your cyber security awareness training strategy reviewed after implementation for guidance on additional measures you can take to build awareness based on your reporting and KPIs.
Single, scalable platform
Track and monitor employee behavior across markets with cyber security e-learning experiences delivered in over 30 languages that all funnel data into a single dashboard for zero data silos.
Immediate phishing reports
Our Phishing Report Button helps employees stay aware, assists with identifying threats within emails, and enables quick and easy reporting of suspicious emails to the appropriate IT department in just one click.
GDPR-compliant
We only process data within the EU where all our legal entities reside. Compliance with the EU General Data Protection Regulation is always guaranteed.
Audit-ready dashboard
Our audit-ready dashboard and reporting make compliance easy and keep you prepared for audits like ISO 27001, TISAX, and more.
Enterprise-ready
Companies scaling their
security culture with SoSafe
Countless global companies choose SoSafe to empower secure employee behavior and strengthen resilience to human-related security risks.
Scale your security culture with ease
See how SoSafe supports CISOs, administrators, and end-users in building continuous resilience.