Experience
Launch streamlined simulations
Seamless simulations purpose-built to drive secure behavior. From setup to optimization, users and administrators enjoy an integrated experience that's easy to navigate and manage.
Tools and setup to quickly launch your first campaign

Eliminate manual management with our continuous 'always-on' model

User-optimized look and feel that connects to the learner journey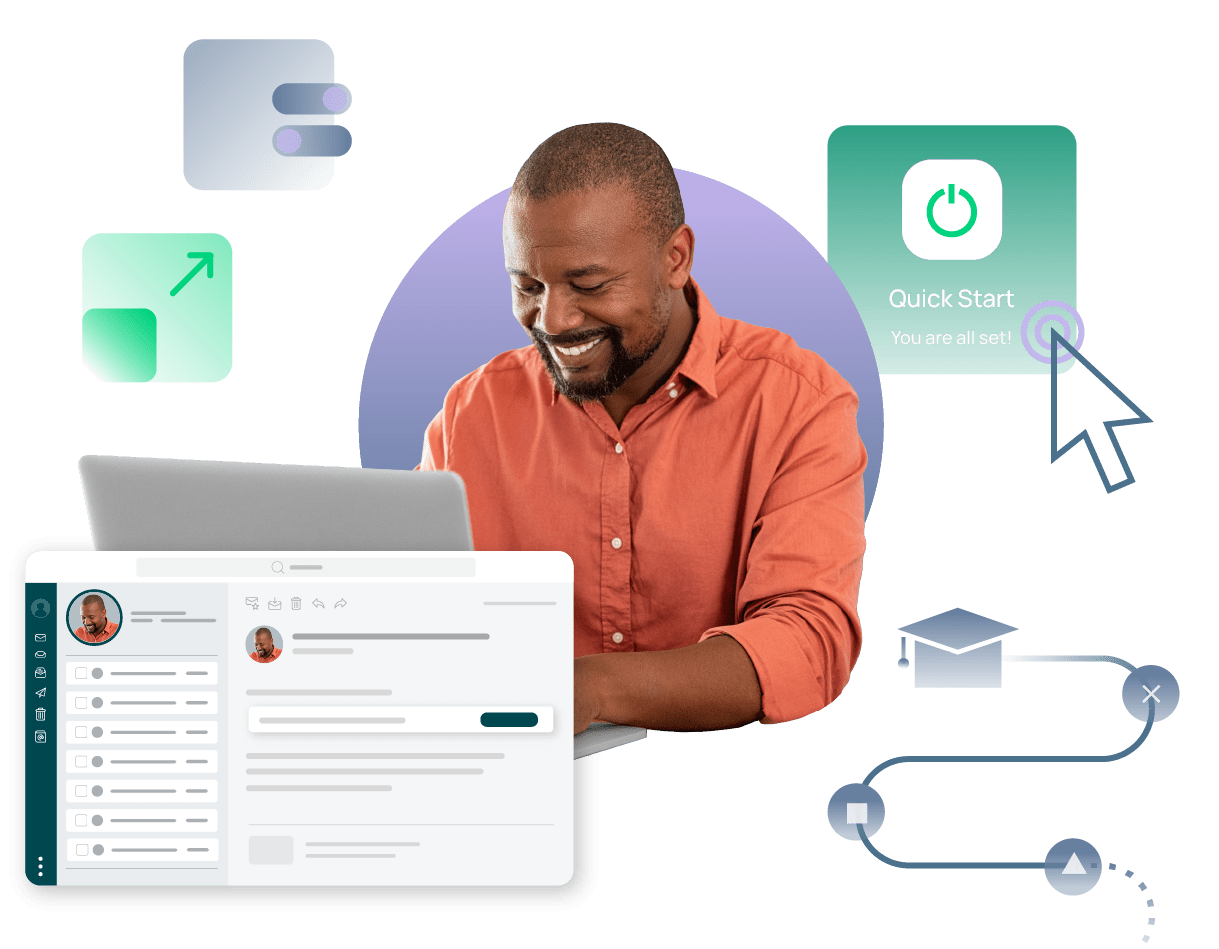 Behavioral change
Deliver fresh learning experiences
Follow proven formulas built by security and behavioral science experts for every threat, scenario, and persona to trigger better security behavior. Customize your phishing training  to fit your industry, criteria, and more.
Premium industry templates covering multiple scenarios

Unique learning moments that hold learner's attention

Customize spear phishing campaigns to your exact specifications

Ethical hacker support available for high-profile simulations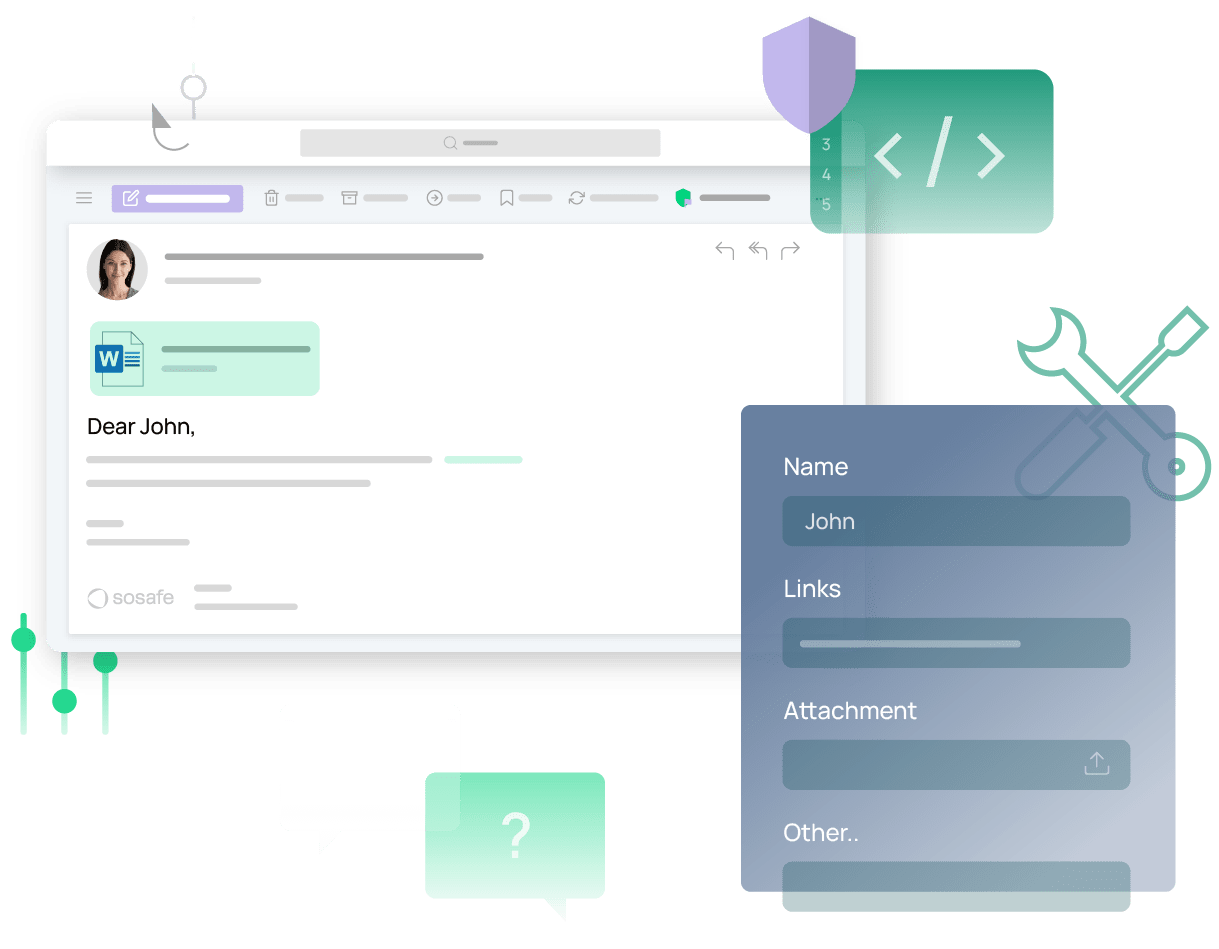 Reporting culture
Lower threat detection time
Empower employees to improve threat reporting skills and lower detection time with greater security and spear phishing awareness  spurred by smart reporting tools.
Seamless reporting and automated analysis from your inbox

Smart Phishing Report Button for faster threat detection

Analyzer Tool assigns email risk score with threat information

Automated employee feedback directly after successful reporting
Request a demo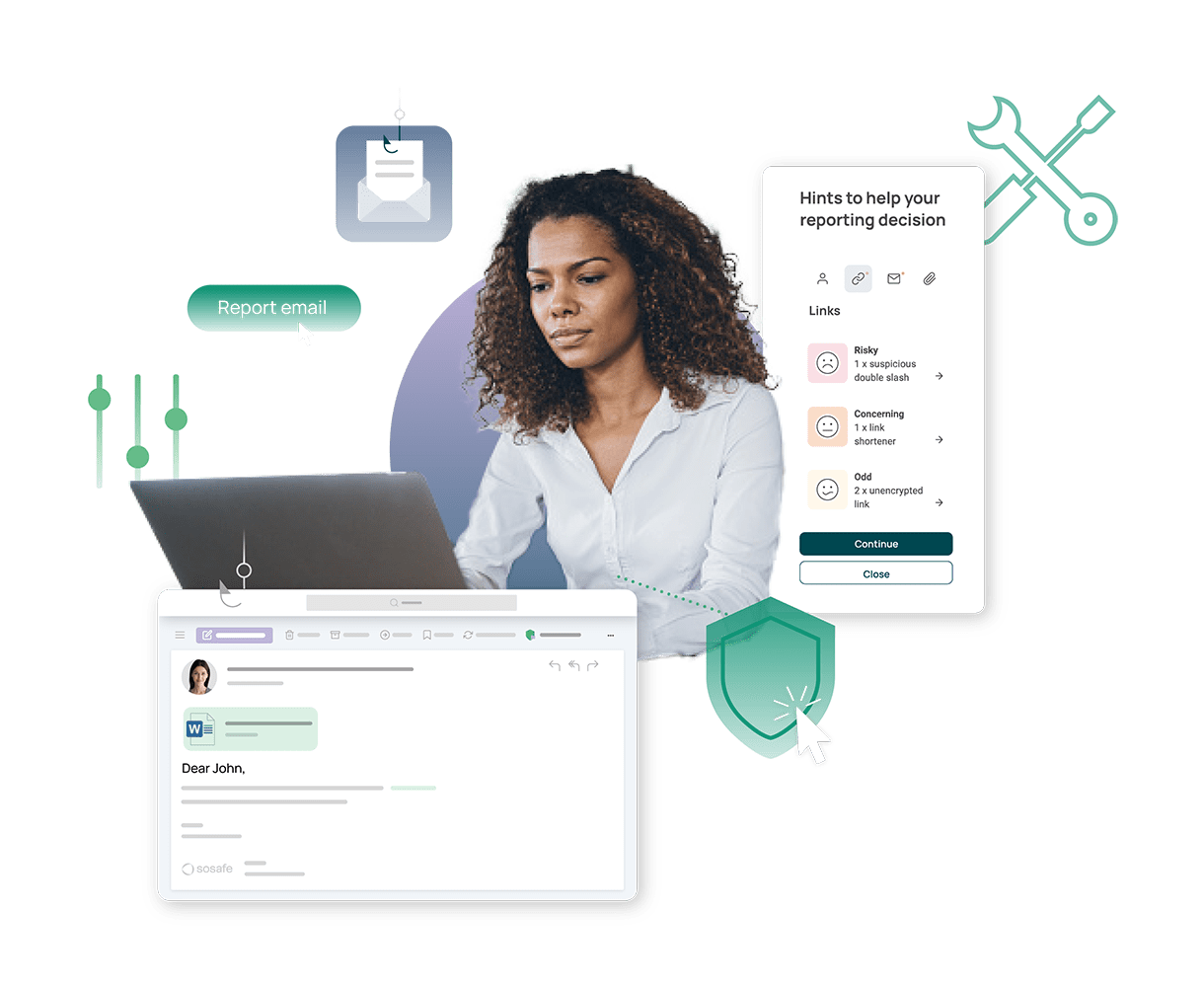 Accelerate real change
Learning through experience
Smart Attack Simulations trigger psychological behaviors that lead to unsafe decisions. Our spear phishing awareness training and learning paths then analyze and teach the employee how to spot and neutralize future threats.
Built to safely drive learning in emotional situations
Realistic experiences that increase in degree of challenge
Reporting insights into areas that need direct attention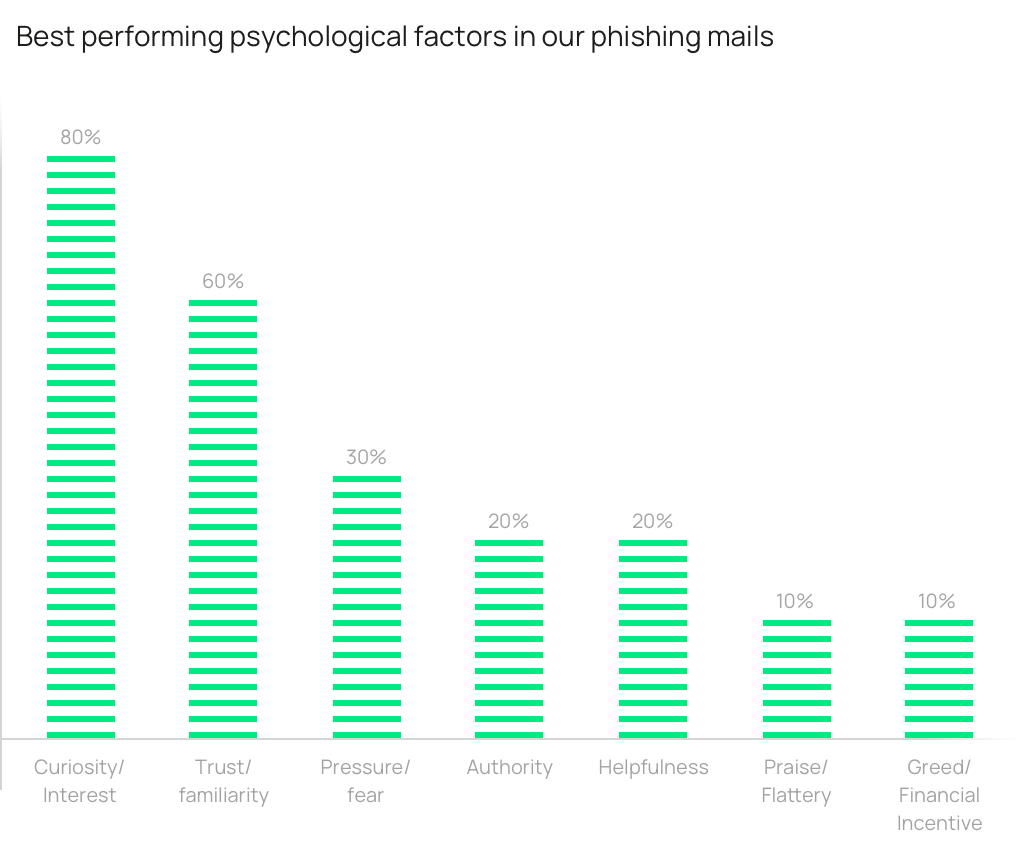 Psychology DNA
Driven by
behavioral science
Don't just test your employees, train them. As an integral part of our cyber security awareness training, our behavioral science-based Smart Attack Simulations make secure habits stick through implicit, incidental learning and realistic threat simulations in daily situations. With employees trained as active defenders, organizations reduce risk and crucial reaction time to any incidents.
Guidance around which psychological and technical tactics to surface in your first phishing simulations
Context-based walkthroughs optimized by learning specialists accompany every simulated attack
Personalized attack simulations across various channels broaden digital self-defense skills
"The psychological insights we compile from deep research on current attack tactics coupled with behavioral data from our own simulations allow us to train employees in a hyper-targeted and psychologically effective way. They learn to understand and detect social engineering attacks early on."
Increased employee
threat response
Move beyond traditional phishing tests with Smart Attack Simulations and phishing awareness training that deliver expertly curated learning experiences, training employees to be active defenders of your organization's security.
Customizable learning experience
Step-by-step guidance from a customizable learning page on how to spot and neutralize attacks after engaging with a simulated phishing email creates a constructive and positive learning experience.
Robust template options
Tried and tested pre-built phishing templates are ready for you to use or work with us to design custom campaigns that include more enhancements or target specific groups, like senior leaders.
Fully GDPR-compliant
All company and employee data are encrypted with inherently anonymous simulations that follow a privacy by design approach to ensure you're 100% GDPR-compliant.  
Easily share your data
Instantly sync your employee directory with our platform keeping your content up-to-date and your phishing simulations incredibly realistic.
Reporting made easy
Our Phishing Report Button helps employees stay aware, assists with identifying threats within emails, and enables quick and easy reporting of suspicious emails to the appropriate IT department with one click.
Fully integrated platform
A seamless user and admin experience with all your data in one place. Scale your security culture seamlessly and move away from clunky, standalone technology.
Enterprise-ready
Companies scale their
security culture with SoSafe
Countless global companies choose SoSafe to empower security behavior and strengthen resilience to human-related security risks.
Scale your security culture with ease
See how SoSafe supports CISOs, administrators, and end-users in building continuous resilience.