Immersive experience
Learning designed to engage and stick
Keep security awareness at the front of mind with learning moments automatically delivered on an ongoing basis. Foster your employees' security habits through personalized and story-driven learning experiences.
Real-world content for hands-on experience
Snackable and easy-to-follow learning modules
Preset nudges, and gamification in e-learning modules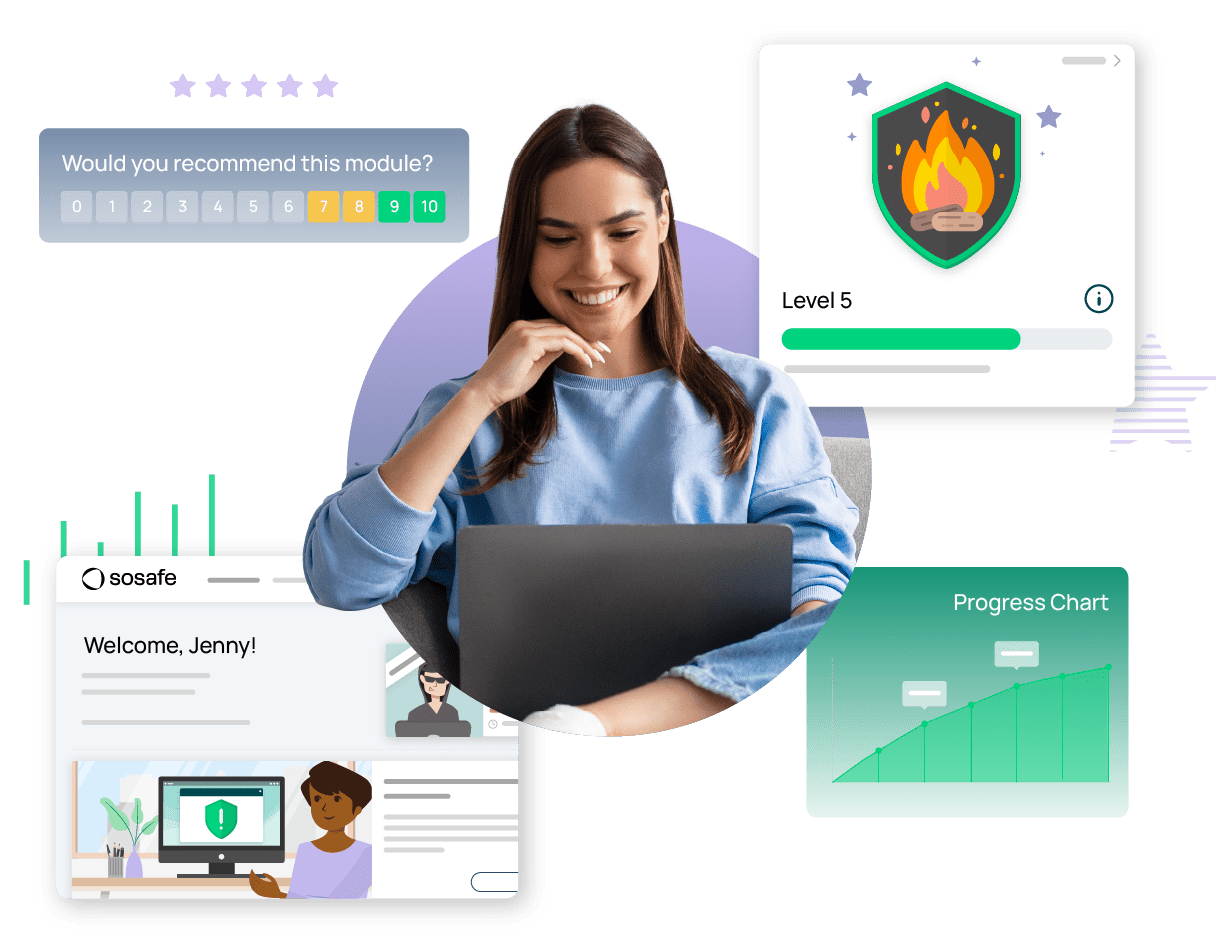 Adaptability
Customized to fit your organization
Increase adoption with a platform that looks and feels like your own. Include company policies and content inside the e-learning and seamlessly integrate the modules with your LMS.
Add your company's logo, colors, and style across all content
Customize in-module content
SCORM streaming directly through your LMS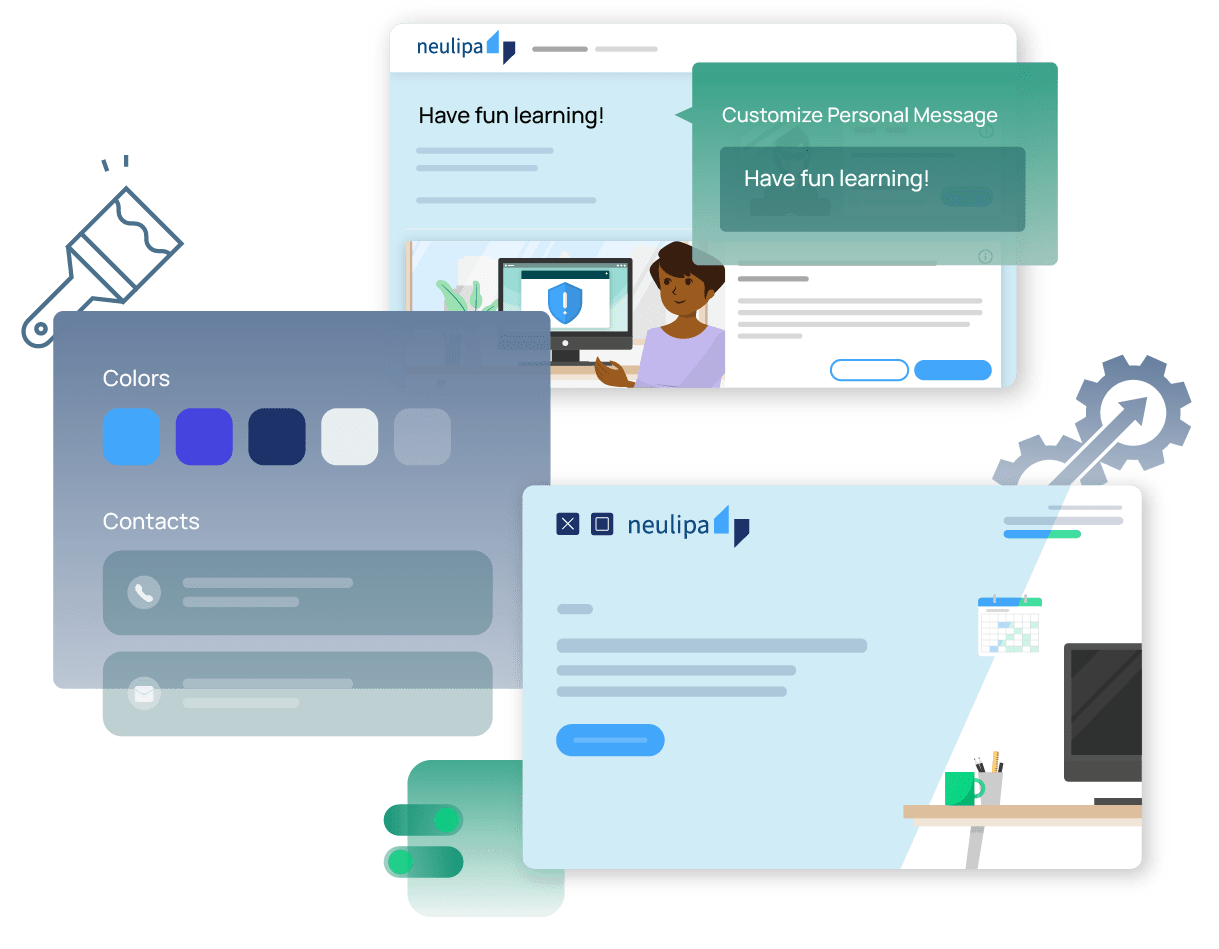 Scalability
Readily scalable for your growth
Be compliant and easily scale your cyber security awareness training with technology that keeps implementation low-effort and content up-to-date. Plus, our team of experts continuously support your success.
ISO/IEC 27001-compliant reports and dashboards
World-class customer success advisory
Fully localized content in over 30 languages
Request a demo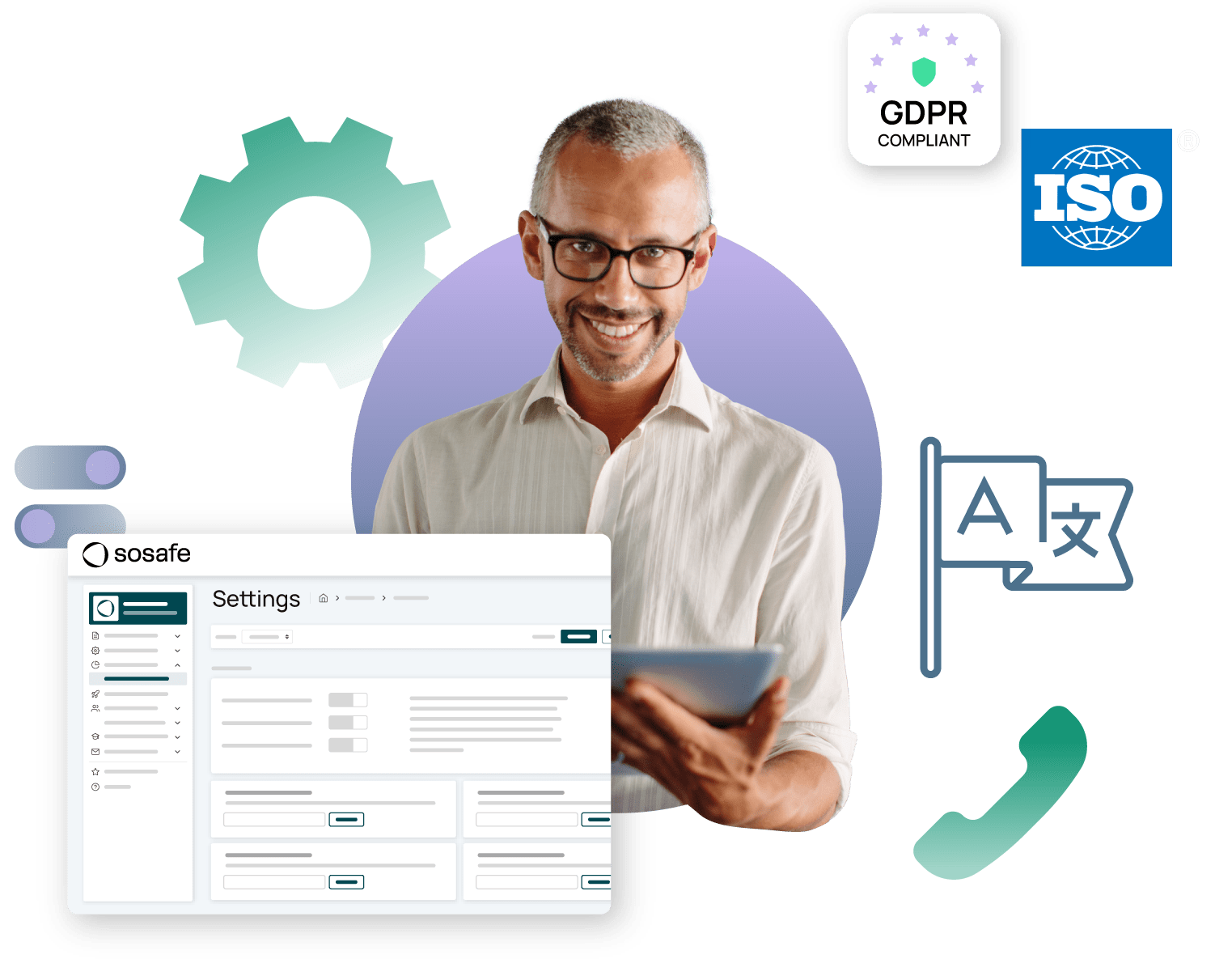 Next-level engagement
Successful habit formation
Our gamification layer boosts user engagement and motivates employees to become more security aware. Blending 'aha!' moments with fun, interactive, and story-driven learning builds long-lasting security habits.
Greater employee engagement
Deeper security knowledge
Increased employee acceptance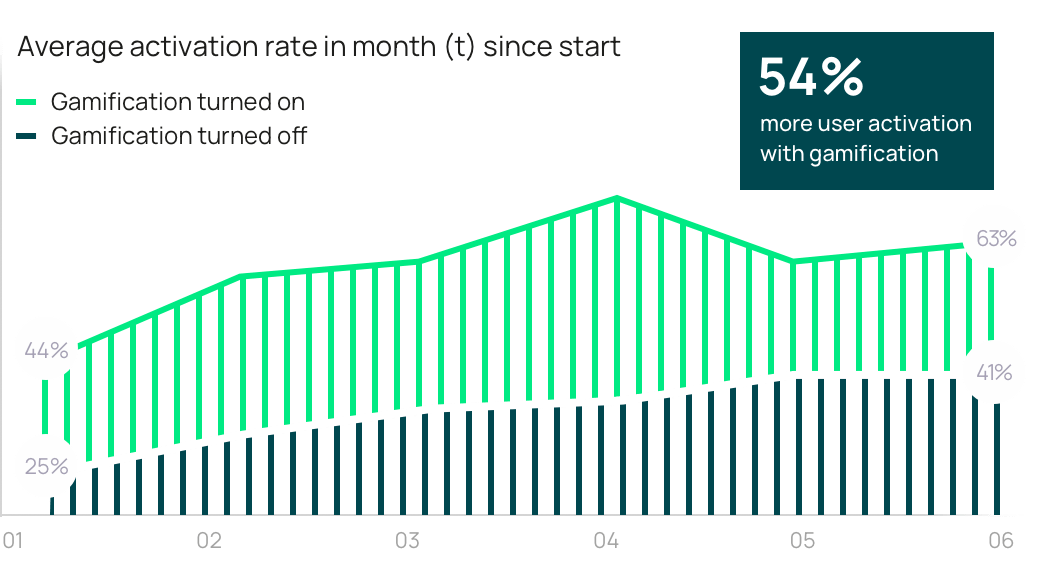 Psychology DNA
Driven by behavioral science
Security habits take hold through continuous learning moments. By grounding our e-learning design and content in the newest insights from the psychology of learning, employees gain practical experience around how to protect themselves from online threats and beyond. With best practices top of mind, they're readily applied in everyday life.
Continuous awareness building through distributed learning based on highly modularized content and phishing simulations
Deeper engagement with e-learning modules due to storytelling and gamification that leverage principles from motivational psychology
Personalized learning experiences are optimized based on individual engagement scores
"Our cyber security e-learning is as human-centered as it gets. Information security and data protection are crucial business factors, but most employees aren't always thinking or talking about those topics. By using methods from behavioral science and psychology, we fuel employees' intrinsic motivation, so they understand the relevance and act accordingly."
Scale your
security culture
Strengthen your resilience to online and offline threats and fulfill compliance obligations with a continuous and curated security awareness platform employees love.
Cutting-edge behavioral science
Our team of psychologists and learning experts continuously design and refine educational experiences that deliver the most engaging, effective, and current training material possible.
Low implementation effort
Stream content through our cloud-based solution or directly through your LMS using our SCORM-streaming engine to speed up your certification process and avoid painful content migration projects.
True GDPR-compliance
We only process data within the EU where all our legal entities reside. Compliance with the EU General Data Protection Regulation 2016/679 is guaranteed – always.
Out-of-the-box audit readiness
Audit-ready dashboard and reporting make compliance easy and keep you prepared for audits like ISO 27001, TISAX, and more.
Robust localization
Our cyber security e-learning and training is offered in 30 languages with new ones added regularly. Our dedicated localization team ensures perfect cultural fit across the globe.
Actionable analytics and guidance
Strategic risk monitoring and advanced analytics help you quickly quantify risk, track metrics, identify vulnerabilities, and make data-informed decisions with ease.
Enterprise-ready
Companies scaling their
security culture with SoSafe
Countless global companies choose SoSafe to empower secure employee behavior and strengthen resilience to human-related security risks.
Scale your security culture with ease
See how SoSafe supports CISOs, administrators, and end-users in building continuous resilience.