Guide
Best Practices Phishing Simulations
Use simulated phishing mails to build a mature security culture
Learn how to tailor your own phishing simulations to your organization's needs
Find out how to strengthen your human firewall through cyber security awareness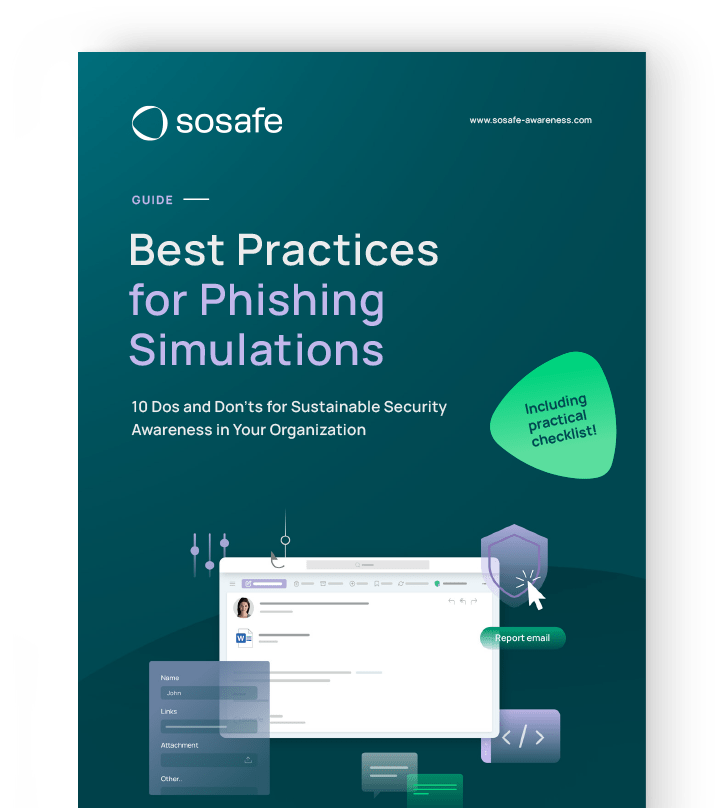 Prevent phishing by learning how to strengthen your human firewall with a customized phishing simulation
Phishing simulations are a powerful tool to increase employees' cyber security awareness for all kinds of phishing scams. This white paper shows what's needed to be both effective and sustainable when spotting phishing attacks. Increase your employees' learning success with best practices against malicious content. Find out how to successfully ward off diverse phishing tactics by planning and implementing simulated phishing mails in your organization. Optimize your simulation by checking out our awareness blog article as well as our checklist aimed to strengthen your human firewall! In our whitepaper on Best Practices Phishing Simulations , you will find out:
How to implement simulated phishing emails in your cyber security awareness training and measure the long-term results
Why focusing on the human factor in your IT security can be a game changer for awareness retention
Why positive reinforcement can support your employee's learning curve
---
"Instead of classifying employees as a risk to an organization's IT security, a phishing simulation should be driven by the opposite assumption: By being aware of security risks and by dealing with them adequately, humans can represent an additional, security-relevant barrier."
How to implement best practices to spot phishing
Basic building blocks
Find out about the main components of successful phishing simulations and why you should make sure to include them in yours.
Planning and implementation
Learn more about what is needed to carefully plan and implement phishing simulations in your organization.
Increase cyber security awareness
Discover how customized phishing simulations lead to more aware employees.
Most encouraging learning techniques
Get insight into which learning techniques are tried and true for the phishing simulations to be most successful.
FAQs
Because phishing continues to be the #1 most pervasive attack tactic used by cybercriminals...and organizations remain particularly vulnerable to them.
Not only can our phishing simulations be tailored to employee's needs, but they are more effective that way too. This includes addressing the entire group as well as targeting specific recipients, e.g., using personal salutations.
A phishing simulation familiarizes users of different scenarios but is only effective as the learning content that responds to a user's reactions. That is why our simulations are followed with helpful and snackable educational content to train with the bigger picture in mind.
Phishing simulations are only effective when they are continuous and randomized. This is based on habit research that suggests learning measures distributed over the long-term are more beneficial for changing behavior.